Major League of Shoe Shopping
Major League of Shoe Shopping
FORTUNE ARTICLE , by A.E.S
August 7th, 1995
As a journalist, you get to walk with giants, which leads to the question: Where do giants buy their shoes? It seems they go to Friedman's Shoes, hidden away on a backwater block in downtown Atlanta. Rundown inside and out, it is nevertheless one great place to buy shoes, especially if you wear, say, an 18EEE.
The real attraction here is the customers, not including me. Step onto the third floor, and you may think it's one of those sports dream camps where you fork over a couple of grand to run around the ex-jocks. The place teams with pro athletes. There sits New York Mets shortstop Jose Vizcaino, slipping into a pair of Mezlan woven loafers. Marco Coleman, defensive end for the Miami Dolphins, eyes some bad-looking boots. A couple of European basketball players study a James Worthy poster. Now the employees are staring at me, asking themselves, What is a fellow under 6 feet tall doing here?
Coleman, informed of the intruder's identity, squints down at me: "FORTUNE magazine, huh? Give me some of them stocks and bonds," Left ëem at home, Marco. Hey, nice shoes! Coleman's been coming here since his days at Georgia Tech. "All the players do," he says. "This place has the best selection of big shoes anywhere."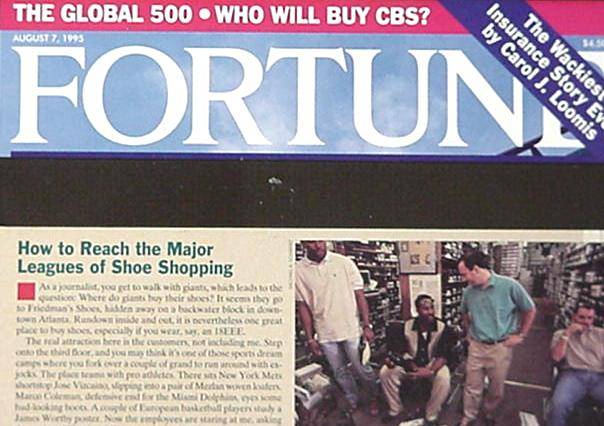 Top of the line, $1,000, Italian-made, alligator, anteater, up to size whatever you want. We check out a pair of Shaquille O'Neal's Marteganis. Size 22. "Damn, they must have used the whole crocodile for these suckers," says the 6-foot-3 Coleman, a size 15. But Shaq isn't the big guy here. The king is El Gigante, a 7-foot 7-inch, 435-pound Argentine wrestler who buys his size 23s at Friedman's.
Stories abound. Just ask owner Bruce Teilhaber. "One season Rico Carty bought every size 13 we had," he says of the former Braves great. Pitcher Dwight Gooden once tried on 57 pairs: he then thoughtfully pulled four aside. "Those the ones you want, Doc?" asked Teilhaber. "Those are the ones I don't want," he replied.
And then there is Don King. Last month the Einstein-haired boxing promoter selected 110 pairs. Tab: $64,100. Top that Imelda.
Me, I slip into a pair of brown $250 Fratelli lizard loafers. Not me. "They look better than the shoes you came in on, " chuckles Vizcaino. "Uh, oh," interrupts Teilhaber, "the boys are here." In roll slugger Bobby Bonilla, relief ace John Franco, Ryan Thompson, and a few other New York Mets, in town to battle the Braves.
So, whatcha like, Bobby Bo? "I'm very conservative. I don't go for the stuff in the skins room," he says, gesturing to a back chamber full of ostrich, lizard, and croc footwear. "That's the Deion room," somebody yells. Bonilla, who makes about $4.6 million, tries a pair of black leather $110 Kenneth Cole Moccathons. Then he slips on some $80 Birkenstocks. "No way I'd wear those," says Franco.
By now the salesmen have surrounded us with stacks of boxes. It's a feeding frenzy. Thompson is particularly pleased with a pair of Marteganis. "Sweet," he puckers. There's a little baseball talk, but mostly this is serious shoe time. Franco and Thompson get four, Bobby Bo has five. How many pairs have they bought here over the years? "Hundreds," says Franco. "Over a hundred," says Bonilla.
And me? I'm tempted by the $850 Davanzati alligator desert boots, but it would be easier getting a hanging curveball by Bonilla than getting this past the bean counters. So I follow Bobby Bo's lead and buy the Birkentstocks. Not high concept, but my speed.