If the Shoe Fits Its Friedmans
If the Shoe Fits Its Friedmans
USA Today Article by Roscoe Nance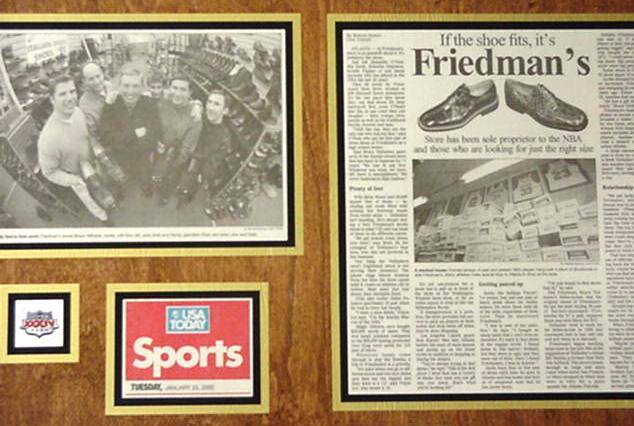 ALANTA - At Friedman's there is no question about it. It's definitely the shoes.
Just ask Shaquille O'Neal, Rik Smits, Hakeem Olajuwon, Scottie Pippen or just about anybody who has played in the NBA the last 30 years.
They all swear by Friedman's Shoe Store, located at 209 Mitchell Street downtown. It's the one place they know they can find shoes for their hard-to-fit feet, even O'Neal's size 22s, in any color they can imagine -- lime, orange, olive, purple as well as the traditional blacks, browns and tans.
"Until this day, they are the only one who has my size," says O'Neal, who got his first pair of dress shoes at Friedman's as a high school senior.
Says Bruce Teilhaber, patriarch of the family-owned store that has been in business for 71 years: "We can fit any foot. Whatever you want, we have. We have a smorgasbord. We cover business to high fashion."
Plenty of feet
With three floors and 20,000 square feet of shoes -- including one room filled with nothing but footwear made from exotic skins -- Teilhaber isn't boasting. He's simply stating a fact.   Friedman's stocks shoes in sizes 7-22 and has mot of them in six different colors.
"We get scared come inventory time," says Brett, 34, the youngest of Teilhaber's four sons, who also are involved in the business.
One thing the Teilhabers aren't frightened about is not moving their inventory. The phone rings almost nonstop from the time the store opens until it closes as athletes call in orders. Most don't just buy shoes, they stockpile them.
Utah Jazz center Olden Polynice purchased 16 pair when he was in town last month.
"I have a shoe fetish," Polynice says. "I'm the Imelda Marcos of the NBA."
Magic Johnson once bought $35,000 worth of shoes. That was small potatoes compared to the $65,000 boxing promoter Don King once spent for 110 pair of shoes.
Whenever teams come through to play the Hawks, a trip to Friedman's is a priority.
"It's hard when you go to different stores and see nice shoes and they say the biggest size they have is a 12," says Polynice, who wears a 16.
It's not uncommon for a team bus to pull up in front of the store as the Washington Wizards have done, or for an entire squad to drop in like the Milwaukee Bucks.
If transportation is a problem, the store provides van service to pick up players at their hotels and drop them off when they're done shopping.
Los Angeles Lakers guard Ron Harper flies into Atlanta before the start of each season and stocks up on the latest styles in addition to stopping in during the season.
"You're always trying to find shoes," he says. "This is the first place I went that has a variety of shoes. Any time you can get any you need, that's what you're looking for."
Getting Paired Up
Smits, the Indiana Pacers' 7-4 center, had just one pair of black dress shoes his rookie season. He wore them with all of his suits, regardless of their color. Then he discovered Friedman's.
"I was in awe of the selection," he says.   "I bought so many pairs that I can't even remember. It's hard to find shoes in the regular world. I found some in (his native) Holland, but they were so ugly and they were out of style. Once I found Friedman's, I was in heaven."
Smits buys four or five pair of shoes each time he goes to Atlanta and has boxes and boxes of unopened ones that he has never worn.
"I'm just happy to find shoes that fit," he says.
Phil Friedman, Bruce Teilhaber's father-in-law, was the original owner of Friedman's. He got his start buying 50 pair of factory-damaged Florsheims for $7 a pair, repaired them and sold them for $12.
Teilhaber went to work for his father-in-law in 1958 and convinced him to buy odd lots and sell them at a discount.
Friedman's began stocking large sizes in the late '60s at the suggestion of Teilhaber's friend Bill Mathis, a former New York Jets fullback. The store's breakthrough in large size sales came when some San Francisco 49ers dropped in when they were in town for a game against the Atlanta Falcons.
Initially, Friedman's largest size was 13.   "I don't know where or how, but people were getting bigger," says Teilhaber, who bought the business in 1972. "I could never get enough big shoes. Big people seem to know other big people."
Today, shoes in O'Neal's size 22 alone stand 15 boxes high.
As the demand for larger sizes increased, Friedman's began designing its own shoes five years ago. Eldest son Randy, 42, handles that end.
"He has a gift that you can't teach," Bruce Teilhaber says.
Friedman's business has exploded in recent years. It now includes a ladies division, run by son Dean, which caters to women with large feet. Its clientele includes several WNBA players.   Another son, Lane, runs a branch store in suburban Atlanta.
A large amount of its business is done by catalog, which is Brett Teilhaber's domain. He also handles buying and Friedman's Web site (www.largefeet.com), averaging 10,000 hits a day.
Relationship business
"We got lucky," says Bruce Teilhaber, whose original dream was to do $300 a day in business. "People like doing business with us. Maybe they keep coming back because we take the time to get shoes for them. The big thing is the personal relationships.   These athletes could shop anywhere because they've got the money. But they pick us. We're supposed to work hard for them."
That has kept NBA supervisor of officials Lee Jones coming back for 30 years. "Everybody comes here," says Jones, who can find shoes in his size 10 anywhere but shops exclusively at Friedman's. "They have a better selection, but I really come in to see Bruce, Murray (Teilhaber) and Harvey (Kronitz) and the crew."
Kronitz has been with Friedman's for 26 years. He opens the store every morning and works through lunch.
When Friedman's began catering to athletes, football players were its top customers. Basketball players now are.
"Maybe that's because basketball guys have to have their clothes made," Brett Teilhaber says. "They dress, and we're known for our dress shoes."
Murray Teilhaber, Bruce's brother, has been with the business for 26 years. He's seen them all. "I'm waiting on my second generation of players."