A Perfect Fit
A Perfect Fit
Article by Bard Wristley
January 1st, 1998
In 1957, Bruce Teilhaber left Brooklyn, NY for Atlanta. Awaiting him were his fiance and a job selling shoes at Friedman's, a store owned by his future father-in-law.
Teilhaber bought the business in 1972. Today, the original 1800-square-foot storefront on Mitchell Street has grown into a 17,000 square-foot Atlanta institution frequented by loyal customers and sports celebrities looking for great buys on large men's shoes. Among his customers, Teilhaber counts basketball phenomenon Shaquille O'Neil, who wears size 22, and boxing promoter Don King, who spent an afternoon this summer buying 110 pairs of shoes.
Thanks to his brother Murray and sons Randy, Brett, Dean and Lane, Teilhaber's shoe business now includes a women's store just a couple of blocks down Mitchell Street and a third location in nearby Buckhead. And in 1992, Friedman's moved into the catalog business, featuring footwear sized 12 and up.
"It's never been about money," says Teilhaber. "It's about being the best at what you do. I grew up in retail. I was born on the floor talking to a customer."
In 1957, we were in the worn shoe business. We bought used shoes and refurbished them with soles and heels and put them on the racks. Eventually I convinced my father-in-law to buy 50 pairs of factory second Florsheims.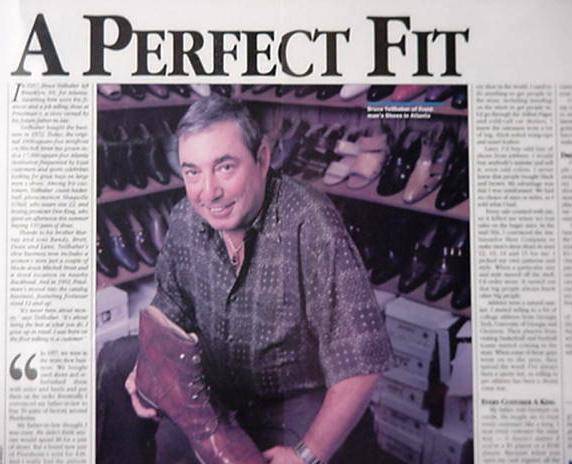 My father-in-law thought I was crazy. He didn't think anyone would spend $8 for a pair of shoes. But a brand new pair of Florsheims's sold for $38. And I really had the attitude that I was supposed to sell every shoe in the world. I used to do anything to get people in the store, including standing on the street to get people in. I'd go through the Yellow Pages and cold-call car dealers. I knew the salesmen wore a lot of big, thick-soled wing-tips and tassel loafers.
Later, I'd buy odd lots of shoes from jobbers. I would buy anybody's mistake and sell it, even odd colors. I never knew that people bought black and brown. My advantage was that I was uniformed. We had no choice of sizes or styles, so I sold what I had.
Every sale counted with me, so it killed me when we lost sales on the larger sizes. In the mid-ë60s, I convinced the Ambassador Shoe Company to make men's dress shoes in sizes 12,13,14 and 15 for me. I picked my own patterns and style. When a particular size and style moved off the shelf I'd order more. It turned out that big people always knew other big people.
Athletes were a natural market. I started selling to a lot of college athletes from Georgia Tech, University of Georgia and Clemson. Then players from visiting basketball and football teams started coming in the store. When some of those guys went on to the pros, they spread the word. I've always been a sports nut, so selling to pro athletes has been a dream come true.
EVERY CUSTOMER A KING 
My father sold furniture on credit. He taught me to treat every customer like a king. I treat every customer the same way ñ it doesn't matter if you're a $5 player or a $100 player. Because when you open my cash register, all the money is green. You can't tell customers apart by the bills in your drawer, can you?
I've always looked out for my customers. When you come to me to buy shoes, I let you know if you listen to me, you've going to look better. I really know my product, so I can make you look better.
DREAMS COME TRUE 
I've only talked to two people about things that involve money ñmy accountant and my banker. My business is shoes. But their business is money, and a lot of times they play devil's advocate and make me see something I missed or need to consider.
NationsBank has always been wonderful to me. We do the bulk of our buying twice a year. When the shoes come in, it's impossible to turn the merchandise over fast enough to pay for it. A NationsBank line of credit gets us through. And because we import 95 percent of our shoes from Spain and Italy, we also use letters of credit form NationsBank.
I've been able to live a lot of my dreams though this shoe store. I'm not smarter than anybody else. I'm just willing to work harder than most people and to go after what I believe in.